About us

Shabingo is the "ad-free" online video selling platform that caters to 2 types of people...
Users who want to watch videos uninterrupted by annoying ads.

Content creators in need of an alternative revenue stream.



Why should you try Shabingo?
You wish to provide your audience a way for them to show there appreciation by paying you directly.
You are a content creator who finds it difficult to monetize your videos.
YouTube is stopping ads being shown on your channel due to any of the following reasons...

Your videos are not Advertiser-friendly
You have age-restricted content
You have Limited features for certain videos

You are tired of creating content for Advertisers and you would love to just create for your audience.
You have a niche skill or knowledge that people would be willing to pay you directly for.
You already have a YouTube of Vimeo following and would like to redirect them to Shabingo so they can show their appreciation for your hard work
You have a charity and would like to monetize it using video content. (Shabingo only charges 2 percent commission for registered charities.)
Why not try Shabingo? You don't need to charge for all your videos or any if you don't want. You can just charge for the ones you feel people would pay for. Maybe the last of a series for example.
Why was Shabingo Created?
The reason Shabingo was created was to facilitate people who created niche videos that had a lot of value to some people but not to millions of people or the masses.
If your videos appeal to millions you can make good ad revenue on YouTube. However, that is a very tiny minority.
For example, As of 2018, YouTube's CPM is reported to be on average 3$, which means you get paid 3$ for every 1,000 views. That is not including other expenses.
That is quite good if you manage to get 100,000 views then you make 300 dollars. That is all good if you can manage to consistently get all those views.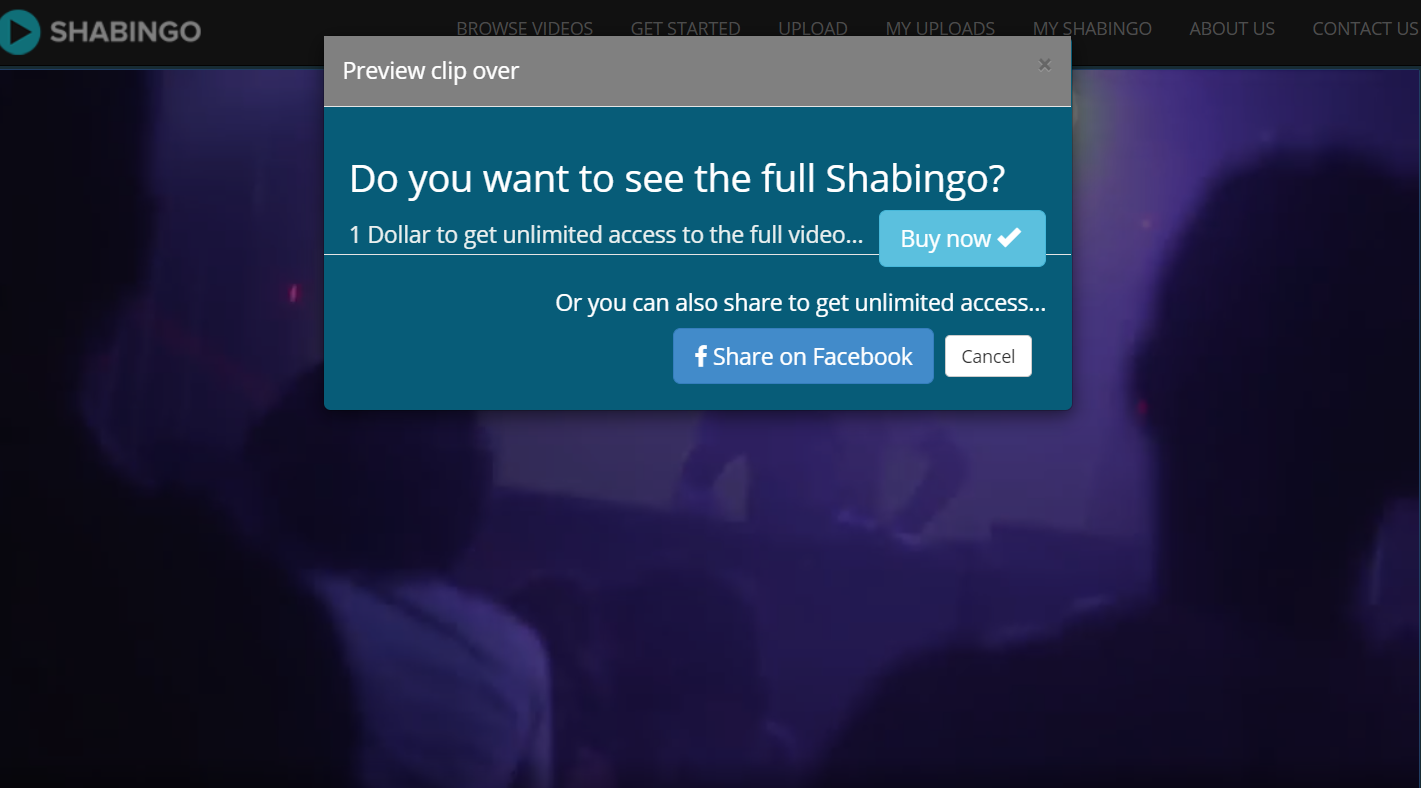 Let me show you how Niche videos do so much better on Shabingo.com
Example:

Say you were a Jeweler who put up a video on YouTube showing how to change the movement on a certain watch. This is a very niche video that could be very valuable to certain jewelers. However, you would only get at best about 2000 views over a couple of years for this video on YouTube as this is very niche. That would make you about 10 dollars over the 2 years.
The thing is many of the jewelers who watched that video would probably have been more than happy to pay 20 dollars to access that video. So if half of them were willing to pay 20 dollars each you would have made $20,000 instead of $10
This is where Shabingo comes in...

Shabingo a video platform that allows anybody to upload a video with a preview clip. People watch the preview and when the preview finishes they are asked...
Do you want to see the Full Shabingo?
So If they find the preview captivating or compelling enough, they pay a few dollars to see the rest of the movie. Thereafter they get unlimited streaming access for that particular clip. In addition the user can read comments and ratings about the video before deciding to pay for it.
The video could be a tutorial, a movie, a song, a niche "how-to" video for professionals and tradespeople.
It could be anything at all as long as the preview clip captivates the user enough to pay to view the full Shabingo!
Creativity is the major factor in how entrepreneurs make the most of this platform.
Commission Rates
Shabingo charges you a flat rate of 5 percent on every video you resell. There are no monthly or ongoing charges applied. So the video up-loader gets to keep 80% of their sales.